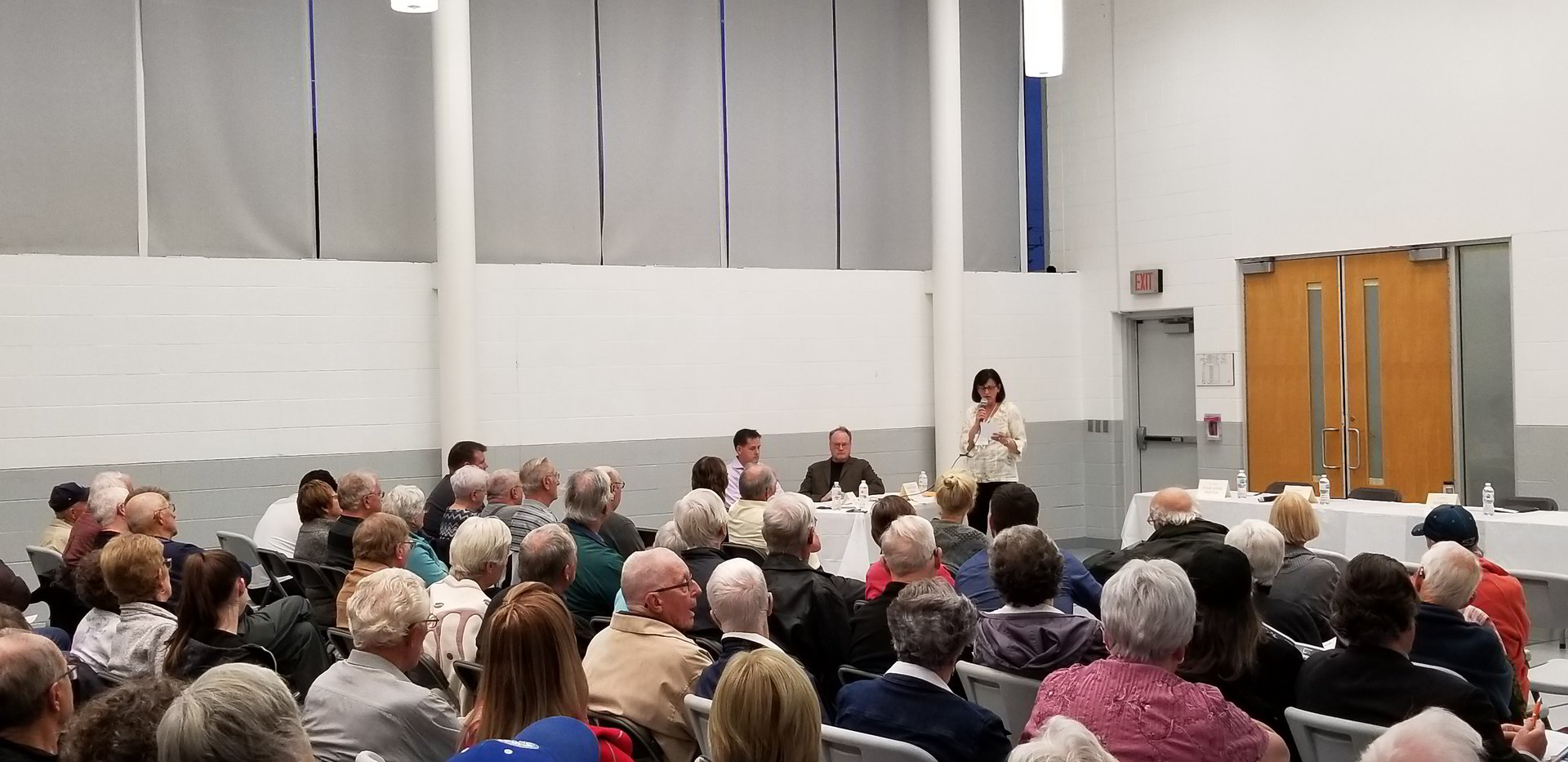 The all-candidates meeting hosted and organized by the Woolwich Senior's Association, had a fantastic turn out Wednesday evening. Both Rob Waters of Heidelberg and Sebastien Seibel-Achenbach of Elmira moderated the event posing questions to candidates and organizing questions from members of the public. Approximately 125 residents attended and there were no shortage of questions for the two-hour event.
Again, my thanks to Nancy Lucier and Woolwich Senior's Association for putting on a first-class public meeting. It was informative and one of the best attended public meetings in my tenure as Councillor.
Below are my prepared remarks for the Oct 3, 2018 all-candidates meeting.

Patrick Merlihan


Opening Remarks – Wed Oct 3, 18
Good evening. My name is Patrick Merlihan. I am honoured to represent Elmira residents on Woolwich Council this past term. It has been an incredible learning experience that has afforded me the opportunity to work with residents across the township. I have gained an appreciation for all of the residents and organizations that contribute to making Woolwich Township the amazing place it is to live.
Thank you for taking the time this evening to learn more about your municipal candidates. I would like to thank Nancy Lucier and the Woolwich Senior's Association for hosting and organizing this all-candidate meeting. This type of public vetting of candidates is an essential part of any election and I'm happy to participate and answer your questions about my qualifications.
I'm a lifelong resident of Elmira. I grew up here, went to school here, started a business here and I'm raising my family here. I consider myself pretty lucky that I've been able to call Elmira my home all of my life.
I have taken a great interest in my hometown. Aside from my work publishing local news in The Observer, I was involved in volunteering with youth sports and scouting. I found myself interested in public office in 2014 and worked to find a role on Council that best fit my skills. I advocated for a citizen's task force to examine spending and explore revenue generating opportunities at the Woolwich Memorial Centre. I started a task force on finding improvements to bus route 21, which most recently started a pilot project of a free shuttle service around Elmira. I've led the drive for adjustments to how township finances are vetted in public during the budget process. This has improved the transparency and understanding of township finances under my watch.
Part of my job allows me to work with the amazing bunch of volunteers that make up Woolwich Healthy Communities. This group embodies the spirit of giving back to the community and making the world better. I am looking forward to contributing to the Woolwich Greening Plan to increase Elmira's tree canopy coverage to 30% in the coming years. The numerous benefits of this plan for all of us will have a long-lasting positive impact.
Becoming a Councillor and learning how our municipality operates is an on-going process. I see Woolwich residents as my number one priority on the job. I will be your champion on Council for the concerns, hopes and aspirations that make our communities stronger and more connected. I'm proud of my track record for bringing your concerns to Council for discussion. I have proven to be one of the most accessible and responsive politicians to resident inquiries and plan to expand my on-going communication efforts with residents.
In the past four years I have made many significant and positive contributions to how our local government operates. I have identified efficiencies and savings and pushed back on unnecessary spending. I have questioned and offered suggestions on hundreds of reports and township bylaws, balancing citizen's rights with proper township liability protections. I am a team player, I take the job seriously and I can guarantee that residents can count on me to represent them as their voice on Council.
Patrick Merlihan

Closing Remarks – Wed Oct 3, 18
If you're looking for authentic, informed leadership you can count on me to deliver. I understand the role as Councillor, the commitment and the responsibility to the community that it entails. The interests of Woolwich residents will remain my number one priority on the job.
For example, I have been hearing from seniors that Elmira has a shortage of accommodations to grow old in place. Just last week I discovered that another life-long resident was forced to move to Waterloo. There has been an upsurge in residents asking me about the old Riverside Public School site on William St. As a Council we gave direction to staff in 2016 to secure this property and start a discussion with the community. We asked for possible scenarios to alleviate some of our housing shortfalls with this property. Despite constant contact with the school board, their staff have yet to make a decision. Just last night I presented a motion to formally request action on the surplus land process with the Waterloo District School Board. Council couldn't support this motion to even start this process, and the motion did not pass.
Like many of the people in this room, I have a vested interest. I want to be able to grow old in my hometown, just like you. My parents will need accessible housing in the coming years – my dad turns 74 tomorrow – Happy Birthday Dad!
I am the candidate you want working on your behalf to start addressing Woolwich housing needs for seniors.
While you may not agree with every decision I make, you can count on those decisions being informed, thought-out and made in the best interest of the community.
I am an entrepreneur, a business owner, a graphic artist, a marketer, a talker, a manager, a neighbour, a husband, a father and a son. My values were developed here growing up in Elmira. I learned my business acumen working with local businesses. My community service, connections and relationships are entwined in this community. I'm proud to call Elmira home, and would be honoured to continue to serve as Ward 1 Councillor for Woolwich Township.
Thank you to the Woolwich Senior's Association for hosting and to you for attending this evening. All the best to all the candidates in this election.